Please see the orthodontic benefits on our web page. Our standard orthodontic payment schedule for eligible patients is 25% of the total benefit paid in the first month followed by automatic monthly installments to the end of the treatment time "or 24 months" whichever occurs first. The patient must remain eligible during the treatment period to receive the monthly installments.
You are able to confirm patient eligibility on our "My Benefits" page. On the same page, you are able to see the lifetime orthodontic maximum, the remaining orthodontic balance and age limitation for the group plan.
Age limitation can be found upper right hand side of screen: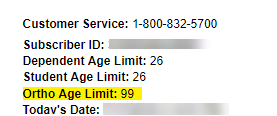 Maximum is located on the Maximum & Deductible Tab:



I want to extend a hearty 'thank you' to our dental office friends for giving us feedback. We appreciate the gift.
Cathy Frankel
Manager, Customer Service