At Northeast Delta Dental, we know that productive and engaged colleagues are at the center of our business success! Our focus on customer satisfaction has always been the key to our reputation in the marketplace, and great customer satisfaction is possible only with employees who enjoy what they're doing, understand our business, and recognize the importance of service to our customers.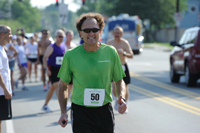 At the heart of a customer centered organization is a workforce of self motivated, positive, and dynamic individuals who are alert, engaged, and ready to lend a hand. We believe our attention to the 'healthy minds and fit bodies' of our employees facilitates their ability to deliver the excellent products and services our customers expect and deserve.
Our efforts to do this include fitness programs we provide for our employees…
Toothaches Running/Walking Group
Our runners and walkers meet weekly for a one hour run/walk and to prepare for road races.
Fitness Centers
Located at our Concord, NH, headquarters, we have a full fitness center with cardio and strength training equipment, and a 'mini fit' center with a treadmill. A certified fitness coach is available on site a few hours each week for employee consult. Employees have access to the Fitness Center seven days a week/24 hours a day.
NEDD Incentive Program (NIP)
Employees who record their exercise over a several month period are eligible to receive a cash award when they meet certain levels of exercise. Cash awards range from $25 to $100 semi annually.
Lunch & Learn Seminars
Our employees participate in regular Lunch & Learn seminars covering a variety of topics including nutrition, alternative medicine, exercise, and related information.
Walking Paths
Located in a scenic section of Concord bordering Horseshoe Pond, we are surrounded with miles of beautiful walking paths!
Northeast Delta Dental actively participates in the Capital Area Wellness Coalition and Greater Concord Wellness Coordinators Group. The company Safety & Wellness Committee reviews wellness initiatives regularly and recommends updates to our programs based on health experts and the feedback we receive from our employees.
Our Senior Management team supports and encourages employees to engage in healthy lifestyles to improve the overall health and wellness of our colleagues!